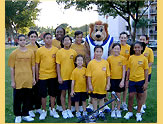 We Care

Established in 2005, Superfits.com has been one of the first safety kids website online for children of all ages. When founder Ivette Cortiella established Superfits.com in July 2005, there were no safe kids websites that would introduce children to Health, Nutrition and Fitness; in fact there were very few websites for kids. However, her unwavering vision has been the safety and security of kids online since day one. Every potential interaction between users is moderated by an experienced team, 24/7.
Superfits.com encourages kids to learn about themselves, learn the reality of eating right and exercising daily through the creation of original structured programs. At Superfits.com we strive to enrich, empower and engage kids and Teens worldwide by providing a responsible platform where they can play and create; explore and discover; learn and understand how the health and wellness of their well being is so important. We've created a site where we've gathered the best information from other sites and put it together in one place for Children & Parents to utilize and understand what takes to be healthy and stay healthy.

The safety and security of our kids at Superfits.com is at the core of our mandate as the leading Kids Health and Wellness Website. As a parent, you can have confidence that Superfits.com is safe providing an empowering user experience for you and your children. No other website can legitimately claim to be what Superfits.com is. We truly care about our children and our future.

A Message From The Founder



In 2004, I had a dream and my dream was to make a huge difference in our nation through health and fitness starting at an early age of childhood. I developed the Little Kickers (children/ages 5-12) and Teens Home Fitness programs in a DVD version, which combats the growing epidemic of childhood obesity. My goal with Superfits.com® is to provide parents, children & teachers with a proven regimen of healthy eating, rewarding and fun exercises all in the comforts of their own home, school. These fitness structured 6 week DVD programs has establishes healthy habits for the whole family and have produced lifetime results. We are very honored to announce that the Little Kickers & Teen Heat Fitness DVD Packages is a proud winner of the 2006 Parent to Parent Adding Wisdom Award, the only award to ever be honored in four categories by Disney.com. "We did it, and we are very proud".


I have created a Vitamin & Supplemental Line for children; vitamin for children ages 5-15 & Teens 13 -17, delicious nutritional bars and shakes specially designed by the Miami Children's Hospital Director of Nutrition, and most importantly our 6 weeks structured fitness DVD collection series. I designed and brought to life a Mascot and his name is "Healthy Harry" .He has captured many children's hearts as he plays a very important role in Children's Health and Wellness throughout the world. Successfully, we have transformed over 1,000 children so far and still counting. Our Success stories prove our programs do work. We might not have the solution to STOP Childhood Obesity in our nation, but we do have the power to make a big difference and bring this high percentage level to a more controlled number!. We will not give up in changing children's lives one child at a time!

---